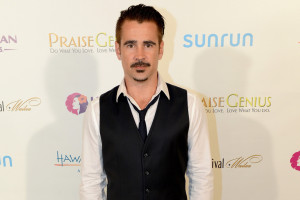 Colin Farrell got caught up in the "whirlwind" of fame.
The 39-year-old checked into rehab in 2005 to beat his drug addiction and has been clean ever since. Looking at his life now, the True Detective star sees barely any similarities to the past.
"It's night and day," he admitted to the British edition of OK! magazine. "I arrived in Los Angeles from Dublin and it was beyond culture shock [laughs]! I was working non-stop and partying non-stop and I didn't have time to even think about what I was doing with my life. I was caught up in this whirlwind and I had the most amazing time of my life. But it was also the kind of life that leaves you empty a lot of the time."
The sacrifices he's made for his career include a stable relationship and Colin has been single for around five years. After being linked to a-listers including Angelina Jolie and Britney Spears, it would take someone special to take Colin off the market.
"I'm very cautious about entering into relationships," he admitted. "I've basically been single for five years and, even though I love women, it's difficult to get involved and put someone in the spotlight because of my being a celebrity. You're reluctant to expose someone to that unless you're so much in love that you're both willing to put up with the attention that's going to follow you around. Being single is much easier!"
– Cover Media