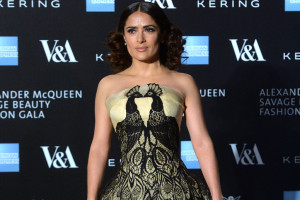 Selma Hayek thinks Hollywood is still "very sexist".
The 48-year-old actress has been in the movie business for many years. But despite her success and that of her peers, the star still believes more needs to be done for equality within the industry.
"Most of the big stars in their contracts have approval of their leading ladies," she said during a "Women in Motion" talk according to The Hollywood Reporter. "The fact that he gets a say in who he gets to kiss I find is very sexist. … And they do not like it when the female character is strong."
As well as appearing in front of the camera, Selma also produces and directs. But she has still been on the receiving end of some derogatory comments, recalling one unfortunate anecdote to the outlet. The incident involved an unnamed studio executive telling her that she could have been the biggest actress in America, but her Mexican accent might remind too many people of their maids.
"He said, 'You're smart, you're talented, you're beautiful. But you were born in the wrong country,'" she said. "At least he was sincere. I appreciated it."
During the conversation, statistics were given which stated only 4.6 per cent of studio films in 2014 were directed by women and that not one Oscar best picture nominee this year featured a female protagonist. However the Frida actress had a solution to the issue.
"The only thing we can do is show them we are an economic force," she said. "Nothing else will move them. … The minute they see money, things will be instantaneously different. … Show them the money."
Selma added that in her opinion, the female audience continues to be ignored.
"The movie is industry is in trouble because we don't care about their movies, and they're trying to figure out why," she said. "What would happen if there was an open door, and somebody started doing movies that we want to see? … [The studio executives] think, 'Chick flicks, romantic comedies. Guess what? We're smarter than that."
– Cover Media
Comments
comments