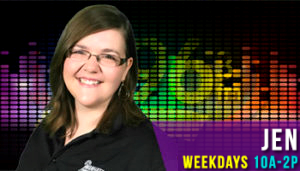 Thanks to my three-year-old daughter, Willa, and two-year-old son, Weston, you'll often find me building blanket forts, dressing up as a princess, or wiping up spilled milk and tears! I love my two kids, and the busyness of motherhood, endless laundry and dishes aside. And while I love the challenges and blessings of motherhood, I never forget my very first time on the radio: I was nine-years-old! I called in to the local station to ask the on-air veterinarian about my pet gerbil, and the rest, as they say, is history.
I attended Cowley County Community College starting in 2007, and spent much of my time either cheering on the Tigers, or focusing on my ever-growing love of radio. In 2009, I interned for a small rock radio station, and shortly thereafter I was hired to work full time.
In 2011, I relocated to Manhattan to earn a Bachelor's degree in Journalism and Mass Communications from K-State. I enjoy people, and getting to know them, so having the opportunity to work in radio, and connect with so many wonderful, innovative, talented individuals has truly been life changing! Now, I spend my days on-air with my friends, and off-air raising my two favorite people. Just consider me your sister in radio.
~XOXO Jen-Renzo