This falls under the "Things I Didn't Know I Needed In My Life" category.
An entrepreneur has come up with a way to enjoy your burritos without making a huge mess. Something I, at least, struggle with on the regular.
It's called the Burrito Pop. It's a combination thermos and dispenser for your favorite Mexican delicacy. Here's a informational graphic of how it works (click on the photo for the full GIF).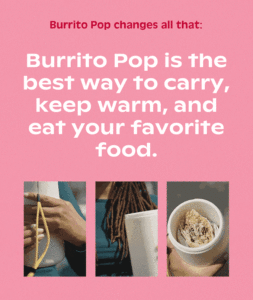 The creator, Madelin Woods, set up a Kickstarter for this miracle of modern ingenuity and it quickly not only met, but surpassed it's goal of $10,000. As of this writing, over $18,000 had been raised, with a month still left to go.
The Burrito pop will be available to ship staring in December, with various different options for purchase.
Comments
comments