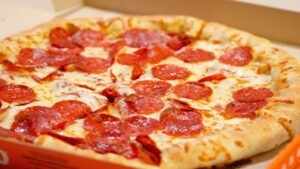 It's our second favorite holiday after Christmas!
Today is National Pizza Day! Here are some pizza related facts for you:
Pepperoni is the most popular variety, with 36%.
As Americans, we consume 3 BILLION pizzas. That's from restaurants. We buy another 1 BILLION in frozen.
The first pizzeria was opened in Naples, Italy, in 1738.
The first United States Pizzeria was opened in NYC in 1895.
As an aside, if you want to get paid for loving the Za, Yelp is looking for a "Chief Pizza Officer." It's a six month gig and the winning candidate will be "responsible for spreading their love of pizza and sharing the latest pizza trends with the Yelp community."
It pays $25,000, so it's worth checking into. Applications are due Feb. 28 and can be submitted here.
There's also a bunch of national deals today. USA Today has a bunch of them, as does Delish.
Comments
comments